2020 was a year that will hopefully be like no other. Planning for the future, does become a little tricky when we are faced with a full blown pandemic. There is however, light at the end of the tunnel with multiple vaccines becoming available and greater awareness.
So where do property sales  fit into this strange senario?
A major factor to consider is the current interest rate. This is probably the most important factor in determining the future of property sales for 2021. Leading experts in the property field believe that 2021 will be driven largely by first time home buyers ( FTHB ). For buyers, 2021 seems very promising. For sellers, the market will largely be seen as a buyers market due to competitive stock levels with sellers not being able to achieve their ideal sales price.
In that being said, our little village of Southbroom did show some promising figures for 2020 considering it was the year of a pandemic. According to Lightstone Property report for Southbroom , there was a total of 49 transfers that were registered , that includes Sectional title, vacant land and freehold houses. Compared to 2019 was one of the best years in a while, which saw a total of  53 transfers. 2020 did show a steep rise in purchasing of sectional title units compared to other years. What is evident from this growth chart is the relationship between the prices and the number of registrations.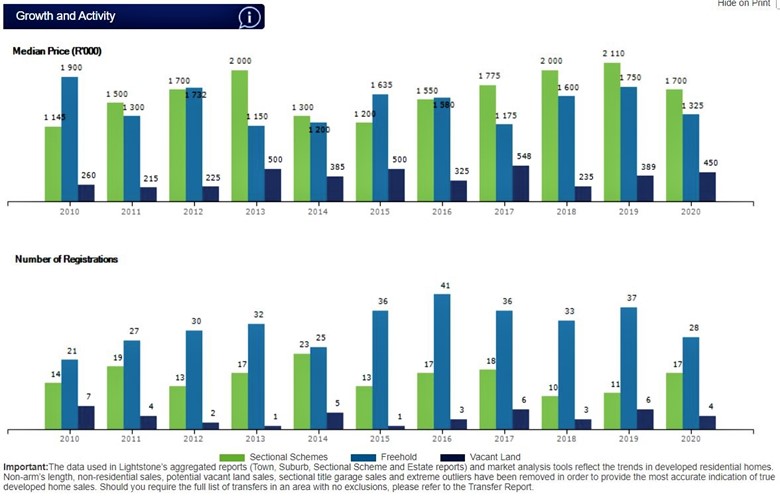 So, what were the most sought after properties and prices in Southbroom for 2020?
According to the sales graph below, Sectional title schemes (Apartments & townhouses) showed the most promising results. The prices that seemed to be favored the most for apartments and townhouses were between the price range of R 1,5 and R 3 Million.
In terms of freestanding houses, the most sold were in the price range of R 800 000 and R 1,5 Million , however almost just as many houses were also sold in between the price ranges of R 1.5 to above R 3 Million.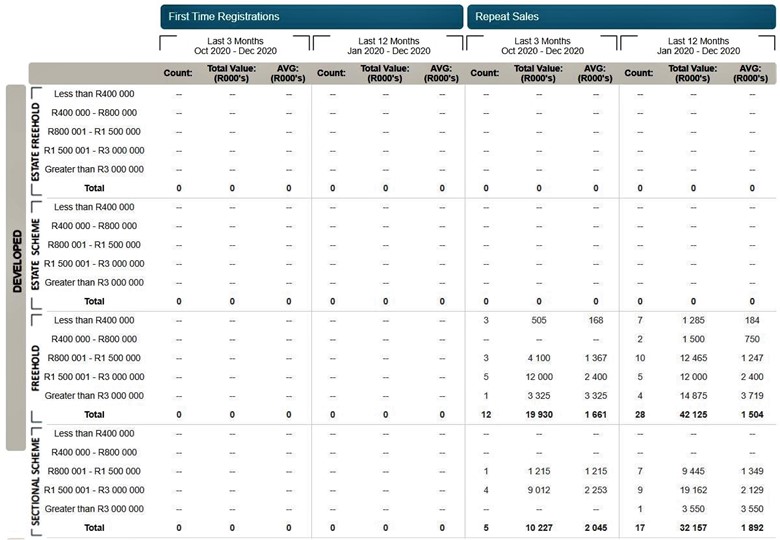 In terms of buyers and sellers demographics, 51% of buyers were between the ages 36 – 49 years, where 52% of sellers were  65 years or older.  A positive trend in terms of younger people seeing  good investment opportunities in Southbroom.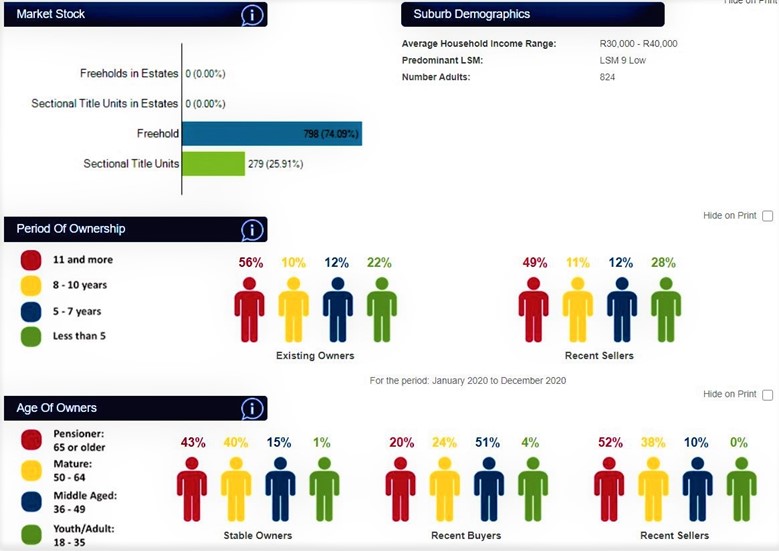 The last point will focus on what is probably the most important factor to consider when selling your house. The graph below highlights the difference between average Sales prices ( Actual sales price) and Average Asking price ( Marketing price, Advertised price). The frustration for sellers when they receive an evaluation from an agent is understandable considering the advertised price of properties on the web. Correct evaluations are mostly based on recent sales and the availability of stock or comparable properties within the area also for sale. In essence, prices you will see advertised are generally over priced, considering when a property is priced right, it wont be advertised for long or even marketed as savvy buyers have access to such information as well.

In summary , 2021 will be a year where much will change as we know it in all aspects, from property, to social activities, to change in lifestyles and living styles. Considering the recent addition Fiber-optic lines in Southbroom, what better place to stay and work from home. Southbroom has so much to offer and those that invest here are either knowledgeable in great invest opportunities or extremally lucky to have chosen such a safe and care-free sea side village.